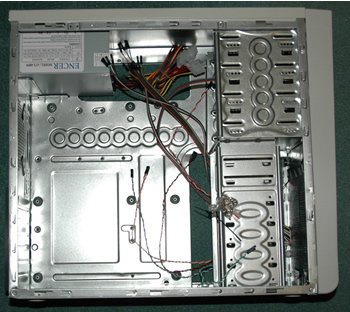 Step 1 - The case and power supply
Cases vary in price from about £20 up to £200. Most come with a power supply already installed. The key consideration is the number of drive bays (if you have a few hard disks to add to your system) and the wattage of the power supply. The case shown here which was less than £20 has 450w power supply and 7 drive bays.
We are planning to use this as a home server to hold documents, music, photos and video etc for our home network.
As such we wanted to ensure we have enough drives to hold all the data we want.
| | |
| --- | --- |
| | |
| The case and power supply | |
| Installing the hard disks, DVD and CD | |
| Installing the CPU and processor onto the mother board | |
| Installing the memory onto the motherboard | |
| Installing a graphics card | |
| Installing a new motherboard | |