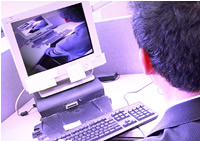 A firewall is a way of preventing certain information from passing to one side of the firewall to another.
For example in an office set up it can stop employees looking at inappropriate sites and stop external criminals accessing company data.
In home networks, a firewall typically takes one of two forms:
Software firewall - specialised software (such as Zone Alarm or Norton Internet Security) running on an individual computer, or
Network firewall - a dedicated hardware device designed to protect the whole network - Buy online

Both types of firewall allow the user to set access policies for inbound connections to the computers they are protecting.
Most will also provide control what services (ports) the protected computers are able to access on the Internet (outbound access).
Most firewall's intended for home use come with pre-configured security policies from which the user chooses, and some allow the user to customize these policies for their specific needs.